Teaching of
Hebrew and Latin calligraphy
Several options are offered:
Classes over a two to three-hour period;
Courses over a two-day weekend period or three and six-day summer courses;
A Cycle comprises one class or one course per month from September to June.
Whether it be classes or courses of Hebrew or Latin calligraphy, the programme has been designed to address the needs, experience and expectations of each individual student.
First and foremost students learn the essentials of traditional calligraphy, then they familiarise themselves with these skills before widening their horizons, both technically and creatively, through developing their own personal form of expression.
Calligraphy is accessible to all and needs no prior knowledge or particular disposition. Calligraphy appeals to those who have a desire to connect with the letter and with the energy of letters. All materials are provided.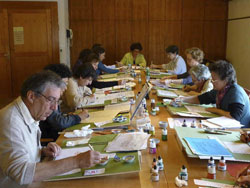 Symbolique et calligraphie hébraïque à Crêt-Bérard
Content
Discovery, exploration, experimentation of different alphabets.
Study of their characteristics, of the morphology of letters and of their structure.
Discovery of ductus - the sequencing and direction of each stroke to be drawn.
Experimentation of shape and of counter-forms, of the space between letters, words, sentences and verses.
Composition and layout of text using simple rules.
In this practical learning approach - discovery and experimentation of strokes, of fullness and emptiness, of colours, of breathing, of posture and of gestural calligraphy.