Hebrew Calligraphy
Enter into the graphic, symbolic and living universe of the 22 letters of the Hebrew alpahabet, accessible to novices and specialists. Draw with brushes and nibs the 22 letters and discover the profound meaning of each.
According to the Kabbalistic tradition, 22 Hebrew letters presided over the creation of the universe. They contain the memory and vibration of the very beginning.
Drawing these letters in their profound structure allows us to connect with this memory and with the essence of creation.
The apprentice calligrapher enters into contact with the energy of the letter.
He recreates the 22 letters that sculpt him. He assembles them and stages them and he makes his mark through inspiration, movement and the unique expression of his presence in the world.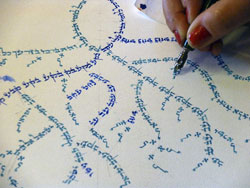 Cours de calligraphie hébraïque