Creative Work
My paintings are a meditation - they are the fruit of this meditation that is gradually revealed to me.
A quest...
"The stroke expresses itself, full of life, and the colour, underpinned by golds, radiates...
The word and the image draw their light from each other..."
M.H. - Dernières Nouvelles d'Alsace
See Gallery.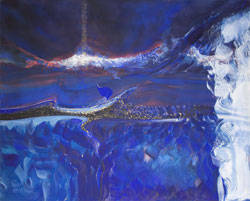 À l'origine
Shinta also creates a variety of works on commission.